Glamping – the latest thing in camping
The very latest trend in camping, glamping is a happy mixture of glamourous and traditional camping values. Many of our Flower campsites offer original and imaginative, themed accommodation with a difference for that extra special holiday.
Whether you're holidaying as a couple, with your family or with friends, you'll find our high-quality, modern rental accommodation beautifully decorated and often fully equipped. The perfect solution if what you're looking for is a change of scenery and a taste of the exotic, you won't fail to be impressed by our warm and welcoming accommodation options, all a million miles away from the tired, traditional mobile home.
And if you want a real touch of luxury on your camping holiday, we offer a range of luxury extra services designed to treat and pamper you. In terms of rest and relaxation, there are body conditioning treatments and jacuzzis. If you don't fancy doing the cooking, check out our hotel service and half-board options. Here at Flower it's our job to look after you…
Whether it's at the seaside, in the mountains or in the country, try a little glamping and get back to nature with style in comfort!
Top-of-the-range camping – splash out on a little luxury
Camping in a luxury bungalow
Cottage Premium - Camping Altea in Herault
Whether you're holidaying as a couple or with family or friends, you'll enjoy the modern design and space of this luxury bungalow equipped with all mod cons including kitchen and terrace. Go all out for a state of the art holiday in the heart of the countryside and treat yourself to the camping equivalent of a luxury suite.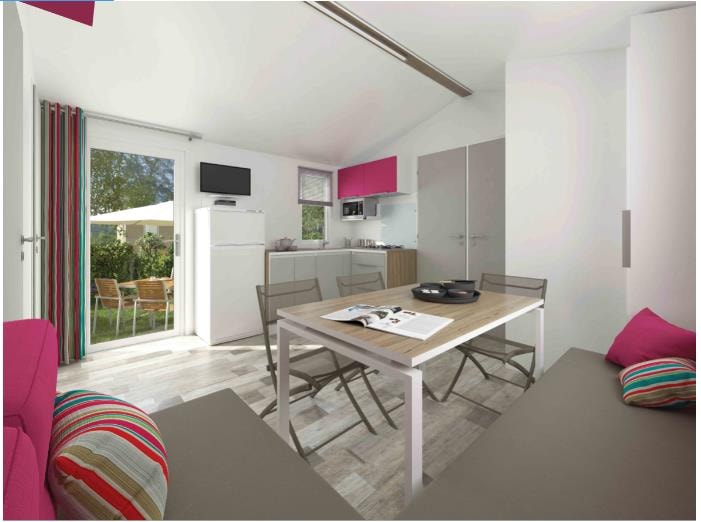 Camping in a luxury mobile home
Premium mobile homes – Camping La Canadienne in Gironde
Thanks to our fully equipped, designer rental accommodation, you can now enjoy all the comfort of glamping on the French coast. Our comfortable, modern and spacious mobile homes come complete with a terrace designed to make sure you make the most of the sunshine. Whether you're holidaying with your partner, family or friends, stay in one of our prestige mobile homes – they're light, bright, tastefully decorated and user-friendly.
Camping with a difference: unusual accommodation
Camping in a romany caravan
Romany caravan - Camping Le Lac du Marandan in the Vercors
A mixture of gypsy spirit, Wild West wagon train and circus style, these authentic wooden caravans will delight young and old alike. An original holiday choice with all the comforts of a mobile home and that little extra "je ne sais quoi", they are ideal for a romantic weekend for two or a family holiday with the children who will love playing cowboys and Indians in them.
Camping in a log cabin
Log cabin – Campsite La Beaume in Provence
There's nothing quite like the feeling of getting back to nature which comes from a good night's sleep in a snug little cabin in the woods. Whether they're up in the trees or on the ground, they offer a unique camping experience. So step back in time and take your little trappers on an adventure in one of our cosy wood cabins.
Get back to nature under wood or canvas
Camping in a cabin lodge
4 Seasons cabin lodge - Provence Vallée in Provence
Marrying wood and canvas, Flower's 4 Saisons cabin represents the very latest in holiday rental accommodation. Original, modern, spacious and cosy, Flower's 4 Saisons cabin is also environmentally friendly and keeps you close to nature. Insulated, heated and fully equipped, this high-quality cabin sleeps 4 to 6 adults and is suitable for spring and autumn as well as summer holidays.
Camping in a deluxe wood cabin
Sweetflower – Camping Le Lac de la Chausselière in Vendée
Our cosy and spacious all-wood cabin on stilts offers 43m² of attractive interior with everything you could possibly want. It features a large, fully equipped kitchen, a bathroom with extra-large shower and separate toilet, a living area complete with coffee table and TV and even a bar and bar stools. There's also a large terrace with a great view where you can eat al fresco with family and friends.
Camping in a Freeflower
Freeflower – Camping Le Petit Paris in Vendée
The simplicity of camping with plenty of space as well. 40m2 of fully furnished and equipped canvas bungalow with two bedrooms – exclusive to Flower campsites! Versatile and flexible, in just a few moves you can transform the lounge and covered terrace into a huge living area for even more space.